Eager to explore awe-inspiring ruins and transport yourself back in time? Look no further than Ayutthaya Historical Park, a stunning ancient city situated near Bangkok in Thailand. Once the country's buzzing capital city, this incredible park is blanketed with impressive shrines, ancient wonders and plenty of secrets from days gone by.
This post may contain affiliate links. That means that if you click on a link and purchase something I recommend, I will receive a small commission at no extra cost to you. As an Amazon Associate, I earn from qualifying purchases. This helps keep my website up and running and is very appreciated. Thank you for your support! You can read my full disclosure policy here.
In This Post
Just a couple of hours' drive from Bangkok you will find Ayutthaya Historical Park, a UNESCO world heritage site. Founded back in 1350, Ayutthaya became the second city of the Siam Empire.
During the 14th and 18th centuries, the city grew into one of the world's largest cities with a population thought to be around 1 million people! The city was largely destroyed by the Burmese in the 18th century but many of its ruins remain, characterised by tall prangs (towers) and Buddhist monuments.
Today Ayutthaya Historical Park attracts tourists from all over the world, most arrive from Bangkok for a day trip but many visitors stay for a few days in one of the many guesthouses or hostels.
I've visited Ayutthaya twice, once as a day trip from Bangkok and more recently as an overnight trip. To be honest, as much as I enjoyed exploring the historical sites, I was not so impressed with the city itself, I found the centre of town to be extremely busy and found the constant harassment of tuk-tuks to be quite tiresome! In my opinion, unless you are specifically interested in exploring the sites in more detail, a day trip will give you more than enough time to explore the area.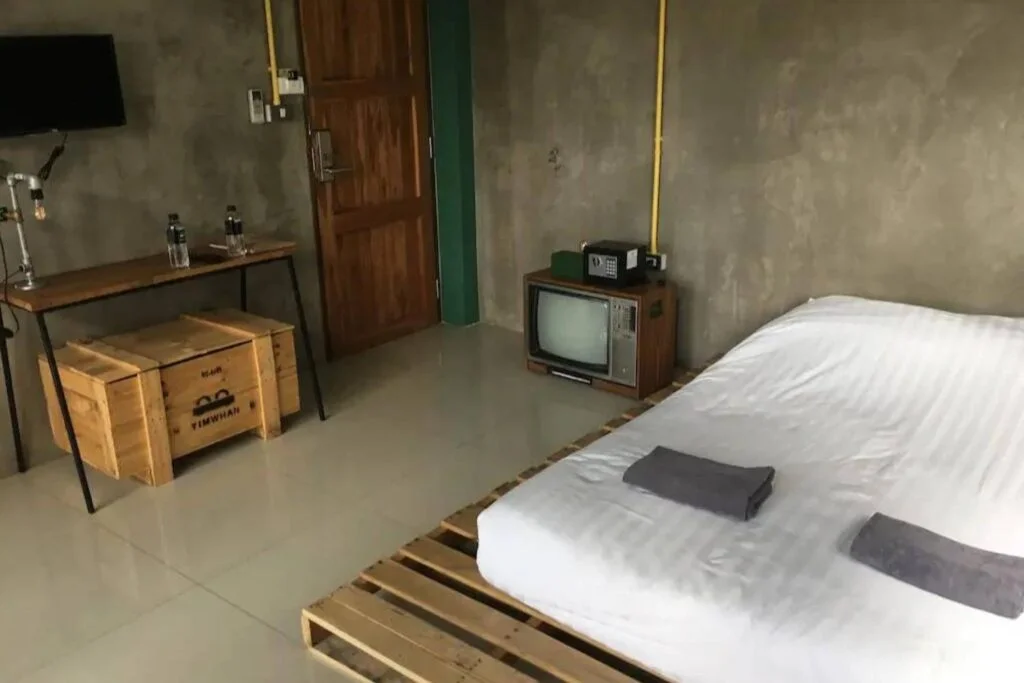 If you do want to stay for a few days then I can highly recommend the Yim Whan Hostel, for only 700 Baht (£16) a night, you can have a double room with a balcony. It also houses a great coffee shop downstairs with the most amazing cakes! For booking accommodation, I recommend using Booking.com.
Ayutthaya Historical Park: How to get there
Ayutthaya can be easily reached from Bangkok. You can either get one of the many tourist minivans, the train or by an organised tour. Once in Ayutthaya, you will be met with many tuk-tuks waiting to drive you around the sites. All charge a flat hourly rate of around 200-300 Baht with pre-organised routes available; however these rates and routes can be negotiated with the driver. 3 hours should be plenty of time to see the best sites.
If you're feeling energetic you can also get yourself a map and hire a bicycle for around 100 Baht, however, be warned, the sites can feel quite a distance away when dealing with the hot summer sun!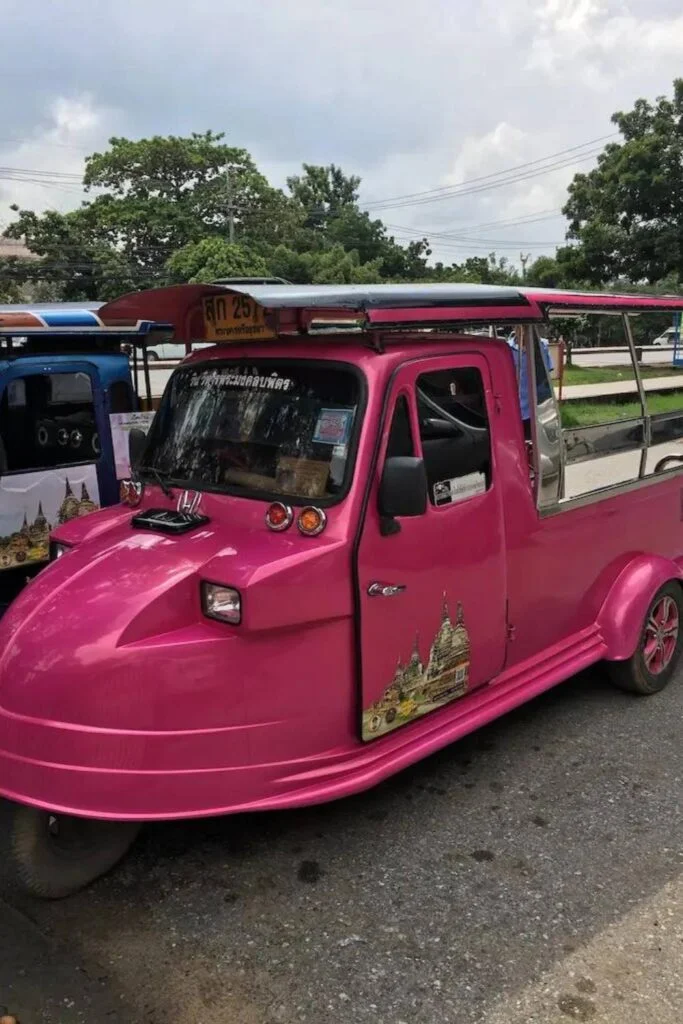 Bangkok to Ayutthaya by bus:
Probably the easiest way to reach Ayutthaya is to catch a minivan from one of the many bus stations around Bangkok. You can buy tickets from most hotels and travel agents in and around Bangkok. However, the easiest and cheapest way is to buy them online from 12Goasia.com. Vans regularly depart from Mochit new van terminal to Ayutthaya for 90 Baht and take approximately 2 hrs.
Bangkok to Ayutthaya by train:
You can catch the train to Ayutthaya from Bangkok's Hua Lampong station at a cost of around 60 Baht and takes around 2 hrs; however, the trains in Thailand do not always follow the schedule with many taking much longer than advertised.
Although this route may be longer than the bus, the views from the train more than makeup for any delays. You can buy tickets at the station on the day or even in advance using 12Goasia. Perhaps get the minivan there and opt for the train back to Bangkok?
Ayutthaya by tour:
If you don't fancy taking the independent route to Ayutthaya, you can also take one of the many tours offered by hotels and tour operators. These tours can sometimes be long and tiresome and cost upwards of 1500 Baht each. Some tours offer a boat trip back to Bangkok including lunch which may be a preferred option for some, however, you won't have as much time to visit all the major sites.
Which temples to visit in Ayutthaya:
There are so many sites to visit around Ayutthaya Historical Park that you won't be able to visit them all, so here's my list of the best sites:
Wat Ratchaburana
Wat Ratchaburana was built by King Borom Ratchathirat II, the wat marks the spot where his two brothers had fought and killed each other fighting for the vacant crown.
The large remaining prang was the centrepiece of the compound and the vault contained gold jewellery, artefacts and votive Buddhist tablets, however, looters broke into the vault in 1957 and raided all that was inside. Displayed inside the vault were many mural paintings, depicting the lives of Buddha, however many of these images have deteriorated and only a handful are still visible.
Wat Mahathat
Wat Mahathat is probably one of the most famous sites in Ayutthaya, it is here that you will find the Buddha's head entwined within the roots of a tree. Wat Mahathat is located in the centre of Ayutthaya and was the residence of the supreme leader of the Thai Buddhist monks and is thought to have been built during the 14th Century.
Wat Phra Si Sanphet
Wat Phra Si Sanphet is the site of the 3 chedis, the first two were built by King Ramathibodi II in 1492. The chedi to the east was for the cremated remains of his father and the now middle one, for his elder brother. The third chedi was built by King Boromracha IV to house the remains of King Ramathibodi II. This site is probably one of my favourites as there are so many ruined buildings to explore.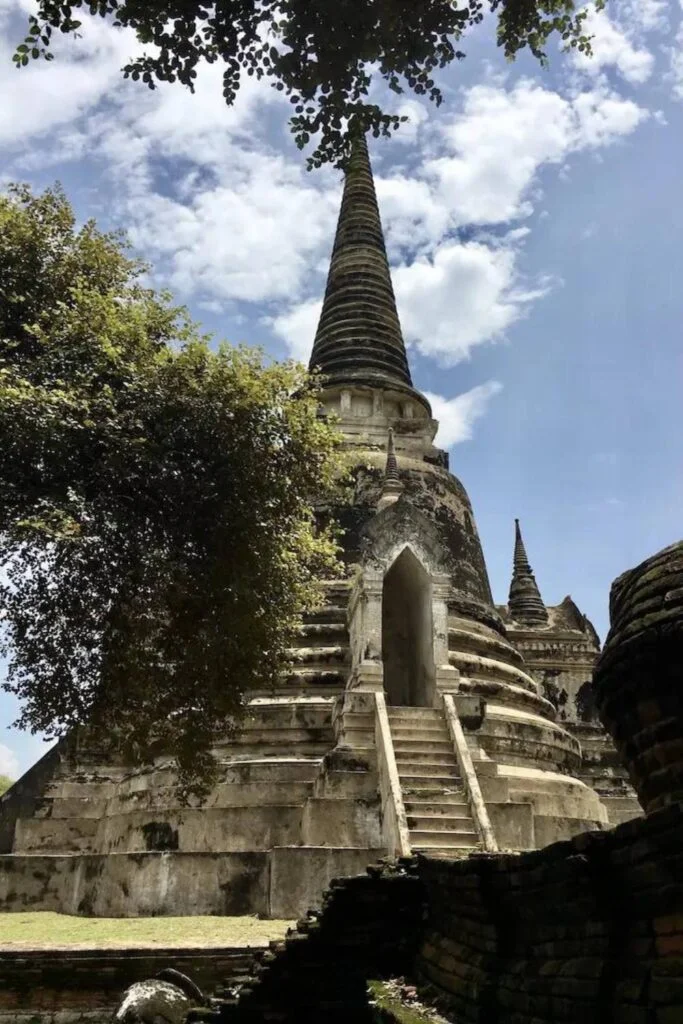 Wat Yai Chai Mongkhon
Wat Yai Chai Mongkhon is one of the first historical sites you will encounter if travelling into the city from the east. Its large bell-shaped chedi sits high on an elevated position with stairs leading up to its terraces. There are rows of Buddha statues along the sides of its gallery which were originally destroyed but have since been re-sculptured. This is also the site of a large reclining Buddha.
Wat Chai Wattanaram
Wat Chai Wattanaram is an impressive site, situated on the banks of the Chao Phraya River. There are many structures including several large chedis surrounded by inner and outer walls. Along the inner wall, you will find rows of Buddha statues which were beheaded by the Burmese in 1767. If staying in the city overnight this temple is said to be the best place to watch the sunset.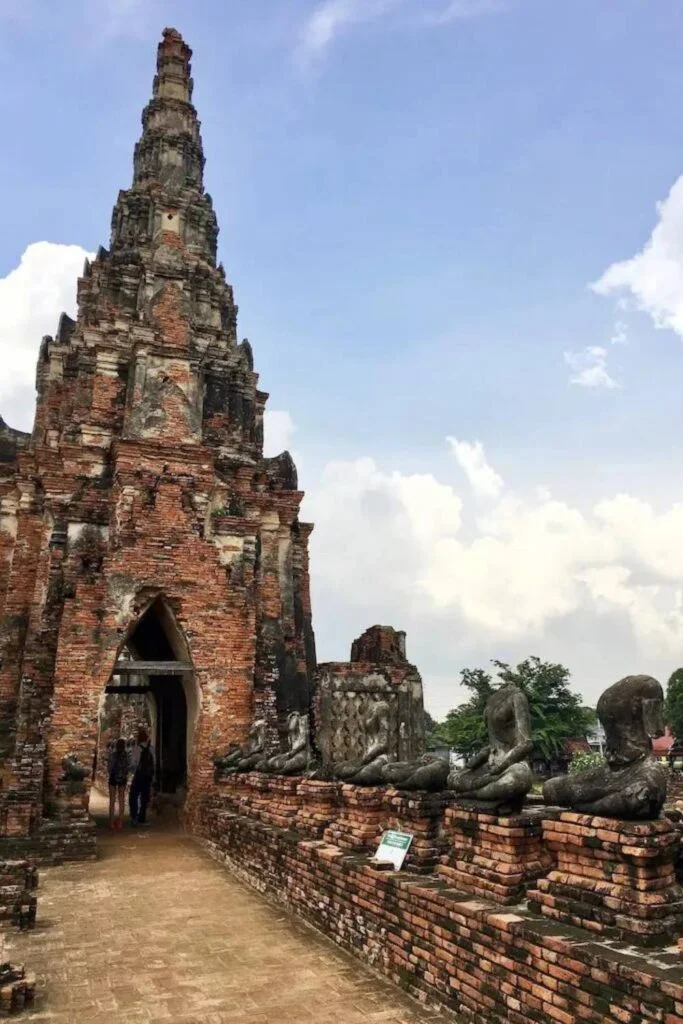 Wat Lokkayasutharam
The highlight of Wat Lokkayasutharam is it's enormous Reclining Buddha measuring 42 meters long and 8 meters high. In front of the Buddha is a small altar with a small reclining Buddha where visitors can make offerings, many of which use pieces of gold leaf given out by the local ladies.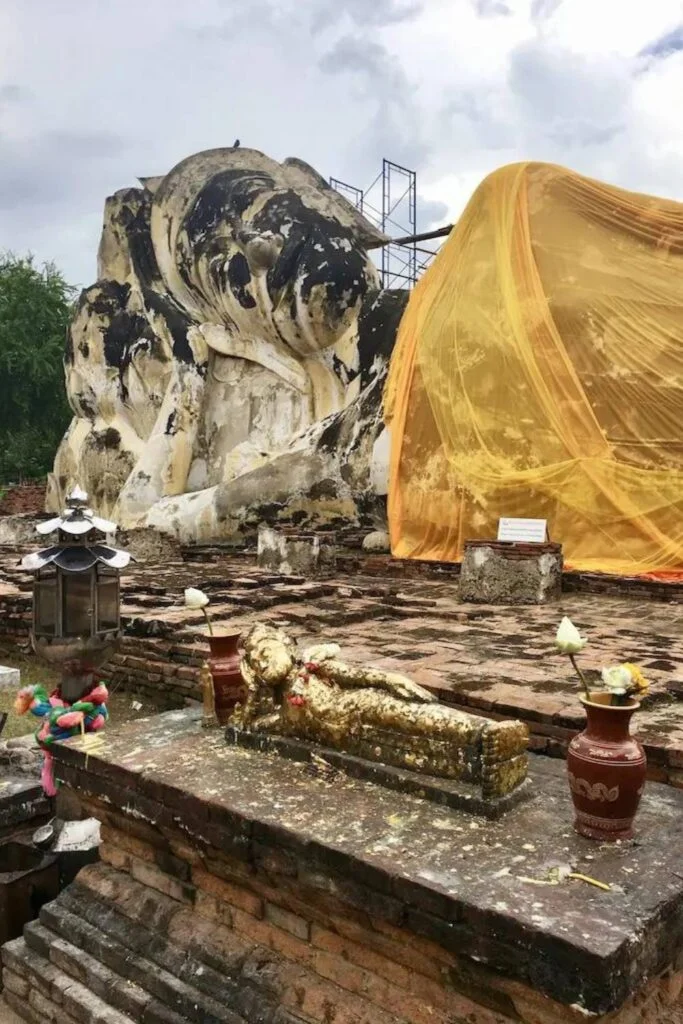 Wat Phu Khao Thong
Wat Phu Khao Thong was a monastery originally built in 1395 on the northeast side of the current site by King Ramesuan, however, after the Burmese invasion in 1569, the current structure was built as a Burmese style chedi but was never finished. Years later Prince Naresuan had a Thai-style chedi built on top of its base to commemorate its independence and victory over the Burmese in 1584. If you're feeling energetic you can climb up all 79 steps to the top.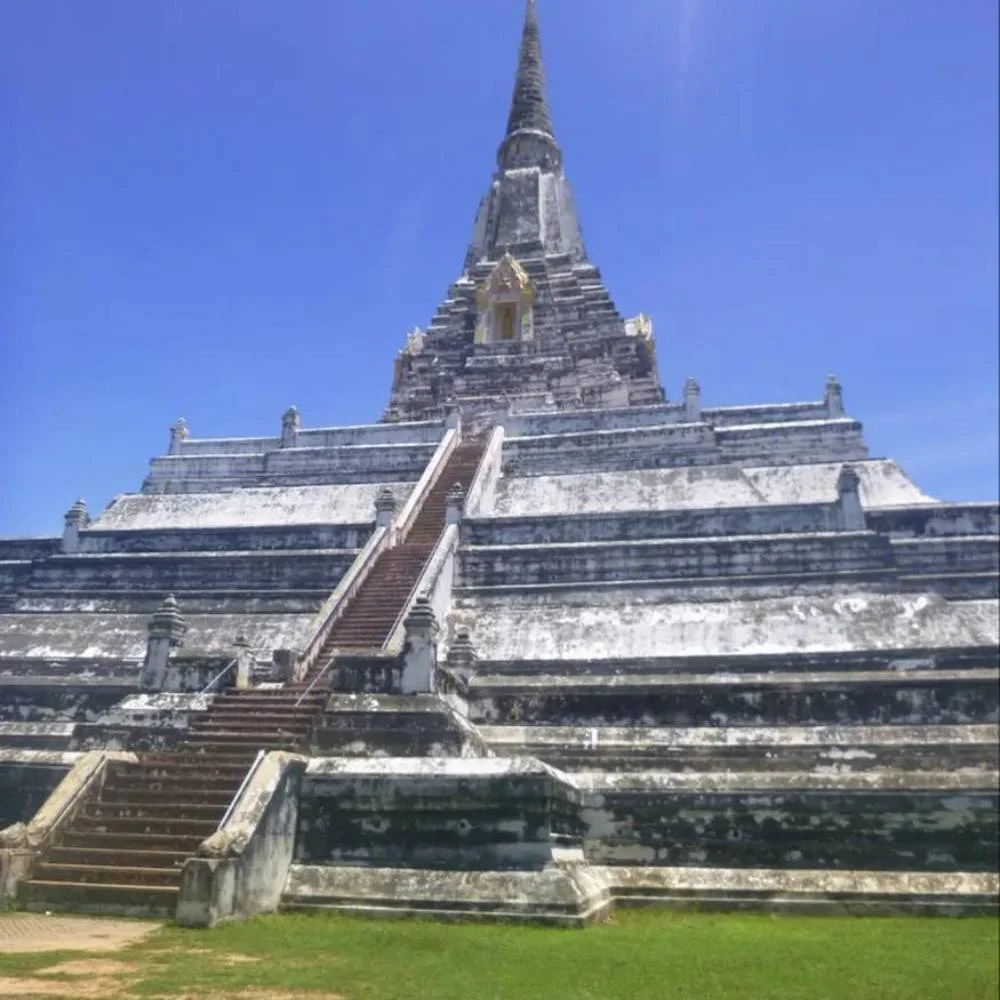 Important Information when visiting Ayutthaya:
There is no fee to enter the Historical Park; however, most of the sites charge a small fee of around 50 baht or less. You can buy a temple pass at some temples for about 250 baht. However, I found it easier to just pay individually as not all temples are included in the pass.
It is also important to remember that although these are ruined sites they are still seen as sacred monuments to Buddhists, therefore please remain respectful, never climb on a Buddha statue, and please follow the dress code of covering shoulders and wearing long pants or skirts.
Bring plenty of water, a hat and sunscreen as the heat can be very intense during the day and there is hardly any shade.
Final Thoughts
Ayutthaya Historical Park is an amazing place to visit and learn about Thailand's rich history. With a little planning, you can easily spend a day exploring all the different temples and ruins the park has to offer. So what are you waiting for? Start planning your trip to Ayutthaya Historical Park today!
Read more:
Thanks so much for stopping by, I appreciate every one of you who takes the time to read and make it to the end! I have lots of exciting new content coming in the next few weeks so make sure you pop back to catch up!
If you want more travel inspiration then subscribe to the blog or follow me on Facebook, Twitter or Pinterest.